Organist Required at St. Mary's, Finedon
St Mary's Finedon in the Diocese of Peterborough is looking to appoint a new Organist. The church has a long history of sustaining traditional CofE music in a parish setting, for the Eucharist, Choral Evensong, and special services.
The successful applicant will be expected to play at the principal service at 9.30 every Sunday, at Choral Evensong at 6pm on the first Sunday of the month and attend Choir Practice, which at the moment takes place on Fridays at 7pm. There is the usual round of seasonal services and occasional offices. The choir at full strength has sung at many other churches and cathedrals and is looking to recover that strength after a fallow period in lockdown. We would be interested in expanding the role if and when appropriate.
Finedon is blessed with a famous and historic organ, built by Father Smith for Queen Anne's private chapel at Windsor around 1705. It came to Finedon in 1717 following the Court's departure to London. It is in fine condition following an overhaul in 2014. There is an assistant organist and a Choir Master.
Remuneration is at RSCM rates with fees also for occasional services. An enhanced DBS check is required.
Take a look at our website, stmarysfinedon.co.uk; and any further enquiries and applications may be directed to revdrichardcoles@yahoo.co.uk
CD's Released by Members
The Organs of St. Mary's Finedon - Jonathan Harris.
Association member and former President and Treasurer, Jonathan Harris Director of Music at St Mary's Church, Finedon has released a new CD of him playing the historic organ built by Bernard 'Father' Smith over 300 years ago.
Below are images of the front and back covers. The back cover is the track list.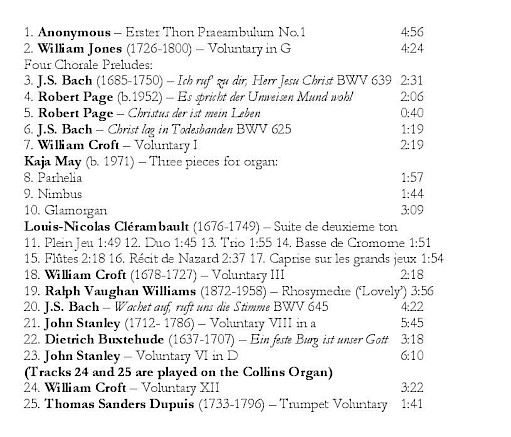 The final two items are played on the Collins chamber organ; the rest are on the Father Smith organ.
If you would like a copy of the CD, please email your name and address to Jonathan on:
jonathan.harris1717@gmail.com
The price is just £5 to cover costs including p&p (online banking details can be provided by Jonathan), but if you wish to contribute more then please make a separate donation to N&DOA using the 'Donate' button on the Join page of this website.
Amongst many delightful tracks showing off the organ's versatile nature are two pieces by former N&DOA member Robert Page - short chorale preludes on 'Es spricht der Unweisen Mund wohl' and 'Christus der ist mein Leben'.
If you are also interested in receiving a copy of these choral preludes please email Rob Page on rpmusic@hotmail.co.uk and he will email you a pdf of the music. He would also be pleased to hear of any performances of his pieces. A full list of his works are on his website: www.rpmusic.org.uk.
Klangreden - Lutheran chorale based works for organ - Callum Alger.
Other CD's Releases
Some Northamptonshire Organ Teachers
Lessons at All Saints', Northampton: music@allsaintsnorthampton.co.uk
Tony Edwards –tonye1960@aol.com
Jonathan Harris – lessons at St Mary the Virgin, Finedon, plus churches in the Olney, Milton Keynes, Stony Stratford area. jonathan.harris1717@gmail.com
Andrew Moodie – lessons in the Northampton area – Director of Music St John the Baptist, Kingsthorpe. akjmoodie@aol.com
Organ Scholarships
All Saints' Northampton: music@allsaintsnorthampton.co.uk
St Matthew's Northampton: music@stmatthews-northampton.org.uk
St Mary the Virgin, Finedon - Junior & Senior Organ Scholarships jonathan.harris1717@gmail.com
Funding for young organists
Eddie Palmer Memorial Award - this is administered by the RCO. It is awarded to any organist under the age of 25 living in the UK for the furtherance of the study of the organ, particularly with the intention of taking any RCO college exam. Preference is given to those living, studying or working in Northamptonshire, Oxfordshire and Buckinghamshire. Contact Andrew McCrea at the RCO andrew.mccrea@rco.org.uk
David Morgan Education Fund - this is administered by the Northampton and District Organists' Association. Supports young organists with funding towards organ tuition, courses, music etc. Applicants are normally Student Members of the NDOA. The decision to award the grant, and the level of the grant, will be taken by the NDOA Committee.
Grants from the David Morgan Education Fund will be offered annually; the amounts offered will be dependent on the level of funds available and the number of applications. Applications should be by letter or email to the NDOA Hon. Secretary at helen.e.murphy@outlook.com, outlining the purpose for which the grant is requested.
The Michael James Music Trust – The Trust is for young and gifted musicians, taking music related courses. Priority is given to organ scholars working to obtain ARCO/FRCO qualifications. Grants cannot be given for the purchase of instruments or equipment.
The trust has a focus on "classical" music and a priority towards the discovery of talent. The trust also works towards advancing education in music in a Christian setting for the enrichment of worship. Application forms can be obtained from the address below and should be submitted by the end of April.
The Michael James Music Trust. 4 Blind Lane, Wimborne, BH21 1NJ