Date and Venues
This event was held on Saturday 25th September 2021.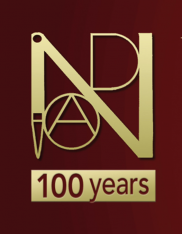 IAO MIDLANDS ORGAN DAY 2021
by Richard Tapp, President 2020-21, Northampton & District Organists' Association
On 22nd September 1921, twenty-two Northampton organists met to form the Northampton & District Organists' Association. As such, it was particularly fitting that a century later, almost to the day, the Northampton Association hosted the IAO Midlands Organ Day, and the Association's Centenary Recital, at the town's St Matthew's church.
Early in 2019, the Northampton Association was asked by the IAO to host the Midlands Organ Day - 2020. Plans began to be drawn up, and a programme devised showcasing the finest organs in the town. Little did we know that Covid-19 would intervene, but we were finally able to assemble at St Matthew's for a fabulous day of learning, friendship and enjoyment as we studied a skill central to our role as organists - playing for the liturgy.
St Matthew's was chosen both for its four-manual J W Walker organ, dating from 1895 - and arguably the finest parish church organ in England - and because the Association's first President, Charles King, was organist of the church. The Association's first business meeting had been held there in November 1921.
Home to Henry Moore's Madonna and Child and Graham Sutherland's Crucifixion, St Matthew's musical commissions include Britten's Rejoice in the Lamb and Finzi's Lo, the full, final sacrifice, with the most recent commission being Robert Walker's Little Organ Mass of the Angels.
The Artists
The day was structured around masterclasses facilitated by outstanding performers, all with Northampton connections. Richard Pinel, Fellow and DoM at Jesus College, Cambridge, was joined by Jonathan Kingston, DoM at St Mary & St Giles, Stony Stratford and Choral Director at Stowe School, and Callum Alger, DoM at St Peter's Collegiate Church, Wolverhampton, and winner of the inaugural IAO/RCO Organ Playing Competition. Justin Miller, DoM at St Matthew's, acted as Artistic Director.
Our plans for Simon Johnson (formerly DoM at All Saints', Northampton, and now DoM at Westminster Cathedral) and Andrew Reid (formerly Organ Scholar at St Matthew's, DoM at Peterborough Cathedral, Director of the Royal School of Church Music and now Managing Director at Harrison & Harrison) to come were thwarted, but we were delighted instead to be joined by Martin Baker, fresh from his acclaimed performance at the Proms.
The Masterclasses
Delegates formed an ad-hoc choir, whilst we were treated to impeccable accompaniment from other delegates, student members and friends. The day highlighted our primary purpose as church musicians to lead worship.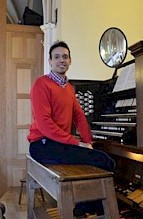 Using three contrasting hymn tunes – REPTON, BLAENWERN and SERVANT KING, Jonathan Kingston led participants through techniques to paint the meaning of the words. He demonstrated how to give confidence to singers, to keep tempo, and to solo the melody. He talked through the use of the organ's tonal pallet, and demonstrated the contrasts between the gentler SERVANT KING and the fuller BLAENWERN tune.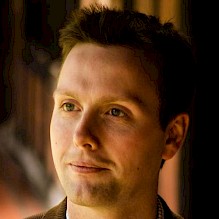 Richard Pinel showed how the organ might emphasise the majesties of the Psalms – supporting singers through the complexities and mysteries of the texts, perhaps soloing out the tenor part, playing the alto line an octave higher, or holding chords between verses.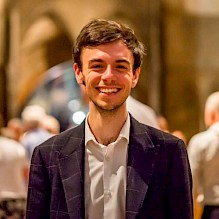 As the participants gained in confidence, Callum Alger completed the trio of teachers, bringing his expertise in performance and choir training. The masterclasses continued by looking at the accompaniment of Anglican chant, plainsong, the Mass, and concluding with Howell's 'Like as the hart desireth the waterbrooks'. The day's work was brought together in a Finale performance of the materials on which participants had worked through the masterclasses.
The Organ Manual Online Magazine
One of the masterclass participants was Anna Hallett, who as well as playing, spoke about her work on the Organ Manual, and her new project, The Organ Manual Online Magazine. The first edition of the magazine had just been published and promised fascinating reading, including a guide to cathedral organ scholarships, Anne Marsden Thomas's guidance on skills, and a plea for organists in parish churches.
Open Consoles
Delegates had the opportunity to sample organs at four of the town's churches. Participants were, of course, keen to try the St Matthew's Walker, one of only a few Walker instruments of the period to remain in their original form.
Northampton is also home to two other fine Walkers. The first, the West Gallery Organ at All Saints, dating from 1982 is box-fresh from an outstanding restoration by William Drake, and coincidentally Richard Pinel had given the Rededicatory Recital only the previous week. Many delegates relished the opportunity to try the instrument which they had heard demonstrated to such great effect only days before.
The third Walker – the three-manual of St Michael and All Angels, dates from 1928, with tonal work dating from 1982 and a new detached console added in 2004.
Contrasting in size and style, but of no less interest, St Gregory the Great is home to a delightful two-manual and pedal by August Gern in the style of his former employer, Cavaillé Coll. Moved to Northampton and restored by Richard Young of Rugby in 2008 with the addition of a new reed in keeping with the French romantic style, it was much enjoyed by all who played it.
While St Matthew's, St Michael's and St Gregory's are within walking distance, All Saints is not, and transport was provided by a 1947 Northampton Corporation Transport Daimler CVG6 bus, ANH 154, now owned and lovingly maintained by Northampton Transport Heritage.
NDOA Centenary Recital
As St Matthew's played such a pivotal role in the history of the Northampton Association, it was appropriate that our Centenary Recital was planned to be given by two former organ scholars of St Matthew's, Callum Alger and Andrew Reid. We were not to know that circumstances would mean that Andrew was unable to be with us, but were enormously blessed that his place would be taken by Martin Baker at such short notice.
The recital itself was, quite simply, a delight. Callum opened proceedings with a thoughtful performance of Bach's Toccata in E BWV 566, before bringing us Elgar's Sonata for Organ in G major, written in the same year that the organ was conceived, and, in Callum's words, 'fitting the organ like a glove.'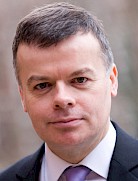 After the interval, Martin Baker brought us a varied programme designed to showcase the organ, beginning with Cocker's Tuba Tune and Sweelinck's variations on Mein junges Leben hat ein End. Martin is, of course, known for improvisation, and appropriately he brought us a spectacular improvisation on Charles King's hymn tune, NORTHAMPTON, demonstrating the organ to great effect. Bringing the programme to a close with the Allegro vivace from Widor's Symphonie V, Martin sent the audience out in the best possible style to begin the Association's second century.
IAO Midlands Organ Day Sponsors
The day was made possible only through the generous sponsorship of Harrison & Harrison and Church Organ World.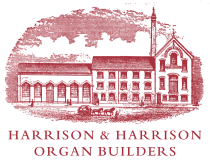 Harrison and Harrison – Andrew Reid. Although Andrew was not able to join us, he generously provided his thoughts to be read to delegates. His links with St Matthew's went back to 1989 when he became Organ Scholar at the church in his gap year, and he said that it is an association he has have cherished ever since.
Harrisons' 2004 restoration ensured that the 48 speaking stops of the St Matthew's instrument retained their 1895 aesthetic. It is, Andrew said, a wonderful instrument from its quiet registers to its tuttis and he recalled hearing the late Ron Gates, a former Northampton Association President, play it every week, hand registering the hymns and filling the liturgy with suitable improvisation and colour.
Andrew also gave details of Harrison's recent and ongoing work – touching especially on the new organ at Canterbury, the work at York to return the organ to the 1931 Harrison scheme and the firm's work at Salisbury and Edinburgh, whilst noting the firm is currently building the largest completely new organ it has made for 60 years, for Greenwich, Connecticut.
Noting the challenges which British organ building has experienced, Andrew hoped that, if a little leaner, it could now emerge into a certain amount of sunlight. This was, he said, necessary if organs such as that of St Matthew's are to continue to be preserved and maintained, informed by heritage skills passed down across the generations.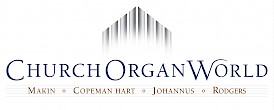 Church Organ World – Dr Keith Harrington. Church Organ World brought two organs for delegates to try and enjoy, and Keith kindly gave a presentation to round off the day. Noting that it held four innovative brands of Makin, Johannus, Rodgers and Copeman Hart, each with their own distinctive sound, Keith recalled that Copeman Hart, which produced bespoke instruments of the highest quality had been based locally at Irthlingborough, Northants, for many years.
Keith explained that Church Organ World now provided the country's largest sheet organ music shop, and was something of a family affair, with Keith's wife Corbie and son John both working in the business. The firm was proud to support organ music at Liverpool, and of its relationship with Professor Ian Tracey, Organist Titulaire at Liverpool as Makin's Tonal Director.
He was at pains to stress that the firm sought to ensure that customers had the right instrument for their needs, and explained how important it was to develop relationship with its customers through the quality of its service as well as that of its instruments.
And finally…
The team at the Northampton Association was delighted with the feedback received to the day, summed up by the delegate who told us that it was 'the best organ event I have ever attended.' With the help of IAO members and friends across the Midlands and beyond, we hope that it has set the Northampton Association on a successful path for its second century.
_______________________________________________