Date and Venues
This event will be held on Saturday 25th September 2021.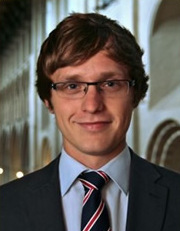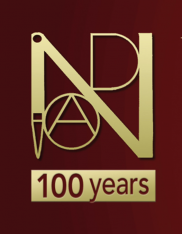 Welcome to the Midlands Organ Day 2021, based at St. Matthew's, Northampton. We invite you to a unique day focused on a skill central to our role as organists – playing for the liturgy. The day will be structured around insightful masterclasses facilitated by outstanding international organists all with a connection to Northampton: Richard Pinel, Fellow and Director of Music at Jesus College, Cambridge, Jonathan Kingston, Director of Music at St. Mary and St. Giles, Stony Stratford, and Callum Alger, Director of Music at St. Peter's Collegiate Church, Wolverhampton will also demonstrate the organ.
Later in the day, we celebrate the the iconic J. W. Walker organ at St. Matthew's, Northampton – once described as 'the finest parish church organ in England' and we would love you to stay and hear The N&DOA Centenary Organ Recital when Martin Baker and Callum will showcase the organ.
The day will also include the chance to try a number of fine organs in the town. We promise you an outstanding and enjoyable day, and do hope you will join us.
Justin Miller
Director of Music, St Matthew's Northampton
Anyone under the age of 16 is welcome but should be accompanied by a parent or guardian. However, unaccompanied 14-15 year olds may attend at the absolute discretion of NDOA, in which case a parental consent form must be completed. Please note neither the IAO nor NDOA can be responsible for children when unaccompanied
Timetable for the 2021 Events
The latest draft timetable for the Day is still fluid but looks like this:
TWO EVENTS – ONE DAY: PROGRAMME
St Matthew's, Northampton
EVENT 1: IAO MIDLANDS ORGAN DAY
10.00 Registration and welcome in St. Matthew's Parish Centre. Tea and coffee available at £1 per person for the day.
10.30 The St. Matthew's Walker Organ: an introduction by Justin Miller, and Richard Tapp, President of the Northampton & District organists' Association, and short recital by Callum Alger.
11.00 Masterclass 1: hymns, and liturgical improvisation.
12.30 Lunch break – bring your own picnic bags or enjoy lunch at one of the many food outlets in the Kettering Road.
Open Consoles will be available from 1.00pm to 2.00pm at St Matthew's, St Gregory's, All Saints' and New Testament Church of God, Northampton.
2.30 Anna Hallett - The Organ Manual
2.50 Masterclass 2: Accompanying psalms and choral repertoire.
4.15 Finale: performance of music worked on in the Masterclasses.
4.30 Demonstration of Church Organ World organs in the Parish Centre, tea and coffee available.
5.00 Supper available at one of the many food outlets in the Kettering Road.
An Open Console will be available from 5.30pm to 6.30pm at St Michael and All Angels, Perry Street Northampton NN3 2HS.
There will be opportunities during the breaks throughout the day to try state-of-the-art digital organs, and to browse and buy organ music, DVDs and CDs from Church Organ World.
EVENT 2: THE N&DOA CENTENARY RECITAL on the iconic WALKER ORGAN AT ST. MATTHEWS
Martin Baker and Callum Alger showcase the Walker organ in a spectacular joint recital.
This timetable and the recital programme is provisional and may be subject to change
The Artists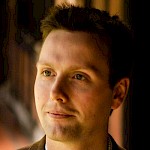 Richard Pinel is a Fellow & Director of Music at Jesus College, Cambridge, and Director of the Edington Festival of Music within the Liturgy. He began his musical life as a chorister at All Saints' Church, Northampton. Richard was awarded the prestigious organ scholarship to Magdalen College, Oxford (2002). Before his current post, he was Assistant Director of Music of St. George's Chapel, Windsor Castle.
Andrew Reid is Managing Director of Harrison & Harrison organ builders. Unfortunately, Andrew has had to withdraw from the programme, and NDOA and Andrew regret that he will not be taking part in the Midlands Organ Day in person. Harrison & Harrison continue to be joint sponsors of this event.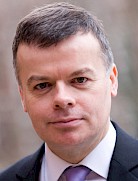 Fortunately, Martin Baker has kindly agreed at short notice to give the NDOA Centenary Recital jointly with Callum Alger in Andrew's place.
Martin Baker is a past President of the Royal College of Organists and was from 2000 until 2019 Master of Music at Westminster Cathedral. Martin was educated at the Royal Northern College of Music Junior School, Chetham's School of Music, St. Ambrose College, and attended Downing College Cambridge as an Organ Scholar from 1985–88. He subsequently held appointments at Westminster Cathedral (Organ Scholar 1988–90), St. Paul's Cathedral (Assistant Organist 1990–1991) and Westminster Abbey (Sub-Organist 1992–98 and Acting Organist 1998–99.)
Martin won first prize in the Improvisation Competition at the St. Albans International Organ Festival in 1997. He maintains an international profile as an organ recitalist, and is known particularly for his skill in organ improvisation.
In 2015 Martin was elected as an Honorary Fellow of Downing College. He is now enjoying life as a freelance organist and conductor, and comes to Northampton fresh from his masterly performance at the 2021 Proms.
We are delighted to welcome Martin to the programme, where he joins Callum in the Centenary Recital. Richard Pinel, Justin Miller, Jonathan Kingston and Anna Hallett will continue to join Callum for the Midlands Organ Day itself.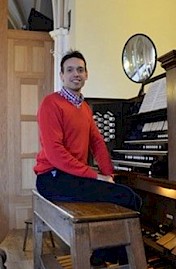 Jonathan Kingston is NDOA's President-Elect. He was an organ student under Ian Tracey and Ian Wells, Sub-Organist to Bradford Cathedral, DoM at The King's School, Ely, and a deputy organist and choral director at Ely Cathedral. Jonathan is currently a freelance musical director, performer, teacher, consultant, and International and UK Examiner and Trainer for the ABRSM. He is Choral Director at Stowe School, and is DoM at St. Mary & St. Giles, Stony Stratford.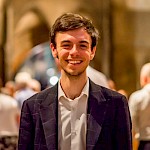 Callum Alger is currently Director of Music at St. Peter's Collegiate Church, Wolverhampton, as well as studying on the Advanced Postgraduate Diploma (Professional Performance) course at the Royal Birmingham Conservatoire, under the guidance of Daniel Moult. He is a former organ scholar of St. Matthew's Church Northampton and Westminster Cathedral, and is an award-winning Fellow of the Royal College of Organists. He won first-prize at the IAO/RCO Organ Playing Competition (2018).
Sponsorship
We have been fortunate in securing sponsorship from: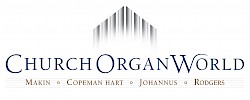 Church Organ World who will have a presence at the Event with demonstration instruments in the Parish Rooms, together with Organ Music CD and DVD sales, and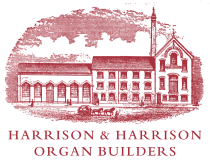 Harrison & Harrison, who are joint sponsors of the day's events .
Catering
Members of the N&DOA will provide tea and coffee at refreshment breaks during the day at £1 per person for the day. Lunch and Supper breaks – bring your own picnic bags or enjoy lunch at one of the many food outlets in the Kettering Road.
Assistance
On the day and probably beforehand we will require assistance from members who are not on the Committee or Sub-committee.
Can anyone who is willing to provide assistance on the day please contact me.
Alan Cufaude
Chair of the MOD Sub-committee
24th September 2021